czCube
> Association czCube o.s.
Association czCube o.s.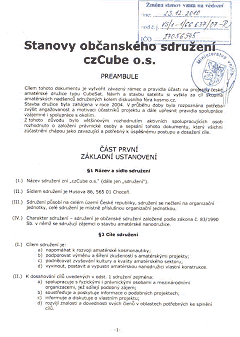 In support of our project we established registered civil association "czCube o.s." in 2007.
Main objectives of association:
to assist in amateur space exploration development; 
to maintain of amateur projects experience exchange and propagation; 
to encourage in quality raising of amateur projects;
to develop, build and launch of amateur nanosatellite with our own design.
---
Supplement:
Articles of association czCube o.s. (PDF, 940 kB, Czech language only)
Bank account of czCube o.s.: 2723783001/5500 (Raiffeisenbank a.s.)